Wisconsin recall election as a wake-up call
The Wisconsin recall election for Gov. Scott Walker turned out not to be as partisan as expected. This fits a national trend in bipartisan reform of benefits for state and local workers.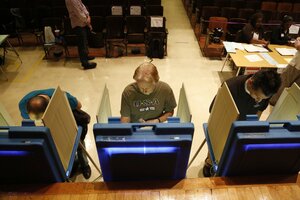 Jeffrey Phelps/AP Photo
Political partisans are teasing out great meaning from Tuesday's victory for Gov. Scott Walker in the Wisconsin recall election. Strangely enough, though, his win simply fits a national trend in bipartisanship fixes for a giant hole in America's public finances – a $4.4 trillion hole.
That whopping figure is the unfunded liability for the pensions of state and local government workers. These days, whenever elected Democratic and GOP leaders actually do the math on overpromised benefits to public sector unions, they often start to work together on solutions toward sustainable budgets. From 2009 through 2011, 43 states enacted major changes in state retirement plans. Most of those were made last year.
The heated national politics over Governor Walker's reforms turned out to be not so heated in the privacy of the polling booth. Nearly 40 percent of those who voted for him were from union households, according to the ABC News exit poll. And 6 out of 10 voters – more than who voted for Walker – said a recall election should be used only for official misconduct, not policy disputes. (Walker was the third governor in US history to face a recall vote – but the only one to survive.)
In addition, a preelection poll showed only 12 percent of Wisconsin voters said "restoring collective bargaining rights" is a priority, even though national public-worker unions tried to make it the issue. Perhaps that is why President Obama stayed out of the Wisconsin fight except for a last-minute tweet of support for Walker's opponent.
---