The Internet needs its own 'declaration of independence'
A new 'Declaration of Internet Freedom' should spark a much-needed discussion about online rights and privacy.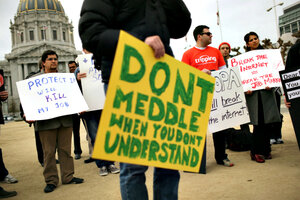 Robert Galbraith/Reuters/File
Consider just two facts about the Internet:
1. More than 2 billion people (about one-third of the world's population) now go online. Nearly half of them are under the age of 25.
2. Kansas City is about to receive, courtesy of an experimental Google project, Internet service 100 times faster than the US national average. The city was chosen from among 1,100 who applied. Kansas City expects the ubiquitous, fast connection will make it a hotbed for start-up companies and all other manner of innovation.
RELATED: Vint Cerf of Google on Internet rights – interview
It's hard to overstate the importance of a cheap, fast, reliable flow of digital information to both economic growth and political freedom around the world. A city offering superior Internet service now might be akin to one located on a river in the 18th century or a railroad line in the 19th, a decisive advantage.
---