Gunboat diplomacy on a rebound?
Russia deploys warships off Syria. China sends threatening vessels to its neighbors over island disputes. The world can't afford a return to 19th-century naval intimidation.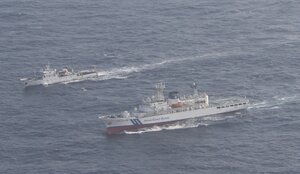 REUTERS
Just when the world had begun to view aerial drones as the weapon of the 21st century, the 19th-century practice of "gunboat diplomacy" seems on a rebound.
Here are recent examples:
On Monday, Russia began to deploy warships off Syria "for exercises" – or perhaps to influence events there.
For more than a year, China has sent paramilitary vessels or its naval ships to intimidate Japan, Vietnam, and the Philippines over island disputes and undersea resources.
Last year, President Obama deployed an aircraft carrier for joint exercises with South Korea to send a message to both North Korea (and its ally China) after a North Korean attack on the South.
Iran has threatened to disrupt oil-tanker traffic through the Strait of Hormuz in retaliation for sanctions against its nuclear program. Even Turkey has flexed its naval muscle over disputes with Cyprus and Israel.
Then there's the Arctic. The melting of the icecap has touched off a tense display of naval ships from several nations trying to claim maritime rights to newly opened ocean passages.
---