America's big drought: Time to rethink water conservation
Much of the Lower 48 is in a bad drought, the worst since 1956. Yet each drought also brings new ideas for adapting to nature's vagaries. What ideas are worth considering now?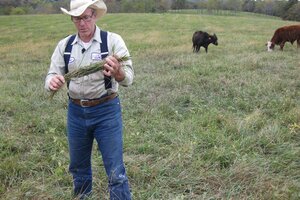 Virginie MONTET/AFP Photo/File
Most of the continental United States is experiencing the worst drought since 1956. In some parts of the Midwest, hot weather and little rain have created conditions like those just before the 1930s Dust Bowl.
Farmers are asking for more government help. Livestock are being sold off. Wells are overtaxed. And consumers are being warned to expect rising food prices in 2013.
As during previous big droughts, people most dependent on water for their livelihoods feel as if they are at the mercy of nature. "If I had a rain prayer or rain dance I could do, I would do it," said Tom Vilsack, the US agriculture secretary.
Yet at times like this, it is worth remembering how each drought also has led to better water management and new methods of agriculture – all the better to sustain the country through the next one.
In Kansas, one of the areas hit worst by the long spell of heat and dryness, Gov. Sam Brownback noted this week that farmers are better off this summer because of changes made after previous droughts. Water rights, for example, have been adjusted from a use-it-or-lose-it policy to encourage water saving.
Water conservation has indeed come a long way since the 1930s. Farmers, for example, now plant trees for shelter from wind. Aquifers, irrigation canals, wetlands, and sprinkler systems are better managed. More farmers use no-till sowing. New seed varieties have better drought resistance.
And soil erosion has been greatly reduced since the 1990s after the government began to pay farmers to take some 35 million acres of highly erodible land out of crop production.
Yet more can be done, not just in adopting new techniques but in taking on wholly new views of farming.
---