Africa as muse, not mess
US Secretary of State Hillary Clinton, on a two-week tour of Africa, raises the idea that the continent's progress on many fronts might offer solutions for some world problems. Is she right?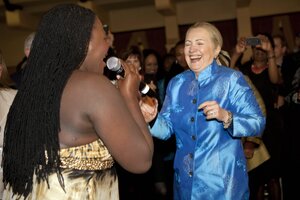 Jacquelyn Martin/AP Photo
During a two-week tour of Africa, Secretary of State Hillary Rodham Clinton has raised an intriguing idea, one that breaks a tired stereotype. Africa, she asserted in a speech Wednesday in Cape Town, has solutions for some of the world's problems.
The continent certainly has enough problems – bad governance, civil war, and drought, to name only three. And solving any one of them might become a model for other nations. Africa, for example, has found exemplary ways to reduce child deaths.
As a region with an economy larger than India's, its growth rate now surpasses that of the West, which is in a slump. Seven of the 10 fastest-growing economies are in Africa.
Compared with Asia and Latin America, Africa has shown unusual partnership among its more than 50 nations in tackling the continent's worst conflicts, such as in Somalia. It has plenty to do. Most of the world's failed states are in Africa.
With steady if uneven progress toward stable democracies, Africans are showing ways to achieve peaceful turnovers of power, such as in Ghana last month. Along its Arab north, Tunisia, Egypt, and Libya have led the Arab Spring. And with the end of Muammar Qaddafi's rule in Libya, Africa no longer has someone using oil wealth to try to control the future of sub-Saharan Africa.
---