Romney, Obama must call a truce on nasty campaigning
As mudslinging escalates, voters will use new digital tools to avoid campaign ads. Romney and Obama can agree to keep negativity in check.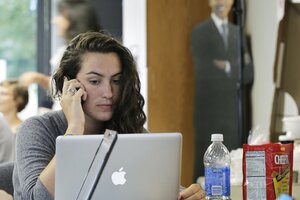 Ted S. Warren/AP Photo
Veteran political watcher Mark Halperin offered an idea this week that could help Americans feel better about their democracy: With the presidential campaign slipping fast into mudslinging personal attacks, Barack Obama and Mitt Romney should get together and call a truce.
"This is not the campaign I think either of these candidates wants," he said on MSNBC.
Many political journalists say they've never seen a presidential campaign so nasty. And all the fact-checking of political ads done by news outlets has yet to deter the use of inaccurate commercials by both camps.
If indeed a détente can somehow be arranged between the two candidates to run campaigns that are not out-of-bounds – banning ads with false claims or avoiding words like "hate" or "put y'all back in chains" – their campaigns, and hopefully their political-action committee supporters, might catch up with what is happening anyway among Americans.
More voters seem to be taking charge of when – and whether – they hear or see a campaign ad. One survey in June found nearly a third of voters had not watched TV in the past seven days. And those that had watched TV did so on digital platforms that made it easy to avoid commercials.
Among those with DVRs, the vast majority skipped over ads most of the time. More than 40 percent of likely voters are going "off the grid" of traditional TV, relying on alternatives such as social media.
In 2012, finds a new Pew Research Center study, "voters are playing an increasingly large role in helping to communicate campaign messages, while the role of the traditional news media as an authority or validator has only lessened."
---