Charity begins where?
A study of giving by Americans shows the different amounts and the goals of their charity, as reflected to a degree in the giving by Romney and Obama. But the motives for giving are still a source of study.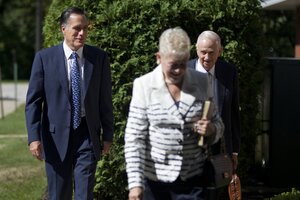 Evan Vucci/AP Photo
In their 2010 tax returns, Mitt Romney and Barack Obama reported that they each gave roughly the same percentage of their income to charity. But most of Mr. Romney's giving went to his church while President Obama's money went mainly to a secular cause, the Fisher House Foundation, which provides housing for families of vets in a hospital.
Does their difference in the type of giving reflect any pattern of charity in America? Only in this regard, as reflected in a new study by The Chronicle of Philanthropy: Americans differ widely in their giving, in both motives and goals.
The study, released Monday, found people living in the most religious areas of the United States give more to charity as a percentage of their discretionary income than do people in other parts of the country. But this greater generosity is likely due to a tradition of tithing in the Bible Belt and also states like Utah and Idaho that have high numbers of Mormons. In contrast, people living in less religious areas, mainly in the Northeast, give a higher percentage of their income to secular causes.
"Religion has a big influence on giving patterns," stated the Chronicle. "When religious giving isn't counted, the geography of giving is very different."
These differences may help explain a political divide in America over the role of government in providing social services. Many people who give to secular causes may see taxes as a type of voluntary giving. Many others who give for religious reasons may prefer less taxation and less government in favor of religious-based charity.
But the study points to another insight: The rich who live in close proximity to the less wealthy give more than the rich who don't.
---