How GOP, Democratic conventions can really educate voters
Mitt Romney and Barack Obama try to compete on 'creating jobs.' But millions of good jobs go begging. Why? Workers need higher education. That's the better issue to debate.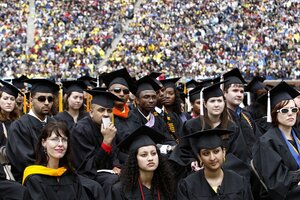 Kevin Lamarque/REUTERS/file
For voters worried about an unemployment rate stuck above 8 percent, this year's GOP and Democratic political conventions can provide insights on each party's promises about creating jobs.
There's only one problem.
The deeper issue is less about job creation and more about how Americans can better train themselves for the high-level jobs that employers cannot currently fill.
Ann Romney touched on the issue in her speech at the Republican National Convention in Tampa, Fla., Tuesday. She touted the low unemployment rate in Massachusetts when her husband was governor and then also noted that he had set up a tuition-free scholarship at state universities for the top 25 percent of high school graduates.
It turns out, according to a report released Wednesday by a Washington think tank, that the parts of the United States that have a more educated workforce also have lower joblessness.
The study by the Brookings Institution looked at job postings in 100 metropolitan areas from 2006 to 2011 and then compared the data with the educational attainment in each place. In Boston, for example, nearly half of job openings require a bachelor's degree or higher while 43 percent of residents have that level of education. This close match of job types and schooling levels partly accounts for the state's low unemployment rate, which was 6.1 percent in July.
Nationwide, cities whose workers have higher skills are doing better in the economic recovery, the study found. The unemployment rate in those areas is lower by an average of two percentage points. In 2011, there were 5.6 openings for applicants with a college degree or more. For those with only a high school diploma or less, there were only 1.6 openings.
---