After Obama victory: Come together, right now
President Obama and Republicans need to work together, weather criticism from their bases, and make a tough, fair, and necessary deal to avoid the 'fiscal cliff.'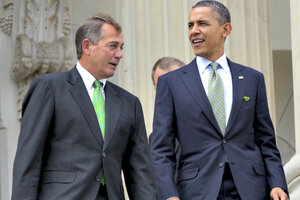 Carolyn Kaster/AP/File
President Obama and Mitt Romney didn't deliver their postelection speeches until early Wednesday morning, Eastern time. By then only the hardiest political buffs were likely to be watching. But their remarks deserved prime-time attention.
That's because both the winner and loser graciously put country over partisanship and urged Americans to come together.
Mr. Obama, reelected to a second term, vowed to begin "the painstaking work of building consensus and making the difficult compromises needed to move this country forward."
RELATED: Civility – 15 quotes to remind us why it matters
He said he was "looking forward to reaching out and working with leaders of both parties to meet the challenges we can only solve together."
Despite an election campaign filled with images of red states and blue states, he said, Americans are "not as cynical as the pundits believe.... We are and forever will be the United States of America." He invited Mr. Romney to the White House to discuss how they might work together to move the country forward.
Romney, though obviously deeply disappointed by his narrow defeat, was equally gracious.
"At a time like this, we can't risk partisan bickering and political posturing. Our leaders have to reach across the aisle to do the people's work," he said. "We look to Democrats and Republicans in government at all levels to put the people before the politics."
---