China's new leaders can't rule by pedigree
Xi Jinping, the new leader of the Communist Party, takes power along with others as descendants of Mao's revolutionary elite. But China needs rulers open to change, not those who cling to hereditary privilege.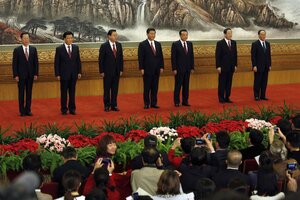 AP Photo
The most striking fact about China's new crop of rulers is how many are so-called princelings. Of the seven men selected for the Communist Party's all-powerful Standing Committee this week, four are descendents of former senior party leaders.
This is startling for a Marxist regime that once denounced hereditary rule, or a belief that bloodlines help determine one's destiny or that the right genes make a righteous ruler.
China is not alone in caving to the notion that heredity can still play a big role in determining a country's elite.
Europe still has its monarchs, albeit now largely figureheads. Americans still vote for political dynasties (Bush, Clinton, Gore, Romney, Kennedy). India is dominated by the Gandhi family, Cuba by the Castros, Singapore by the Lees, North Korea by a third-generation Kim, and Syria by a second-generation Assad. The Arab monarchies, such as Saudi Arabia, may be the most successful in self-perpetuating their power, even when up against the Arab Spring.
China's "red nobility" stands out, however, because of the country's sheer size and the need for economic and political reform. These new Chinese leaders, who see themselves as the hereditary heirs to the 1949 communist revolution, may have little stake in change. They literally still live in a walled world. And many of their families control a large chunk of the economy.
---