Makings of a real Thanksgiving? Hospitality to strangers.
Opening one's home at Thanksgiving to those less fortunate evokes the spirit of that first feast of gratitude between Pilgrims and Indians – a shared table of different peoples.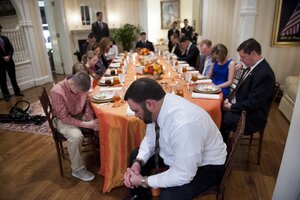 AP
Of all the holidays in America, Thanksgiving brings out a special antenna in many people. They become alert to those who are far from family or home and then invite them to their yearly feast of food and gratitude.
This act of welcoming others, even strangers, into our homes for a shared meal evokes the first thanksgiving. If not for the hospitality of the Wampanoag tribe, the Pilgrims might not have survived their first year in New England's "howling wilderness." Their joint feast of fowl and fixings was really a giving of thanks for the welcome acceptance of one people by another.
That same spirit of hospitality will be witnessed this Thanksgiving in the welcoming of people hit by superstorm Sandy into the homes of those who probably open their hearts to refugees of any storm of life.
And this Thanksgiving, there are many holiday refugees. They are the isolated seniors of an aging society, the many more college students too far from home, or the immigrants who know little of American traditions. One in 3 people now lives alone, up from 1 in 10 just 60 years ago. Nearly half of working-class children don't live with their father.
Real hospitality, the kind of open-handed acceptance of those less fortunate or who are very different from us, has eroded. Schedules are more hectic and time precious. Divorce and job mobility break up neighborliness. People live more as residents of a community than stewards of it. That loss of community raises a fear of others.
"The best predictor of a low crime rate in a neighborhood," says Harvard sociologist Robert Putnam, "is how many of the neighbors know each other's first names."
---