A comforting arm to curb Army suicides
A record in military suicides, despite many new prevention programs, points to a need to change military culture to help detect those in need and make it easier to get help.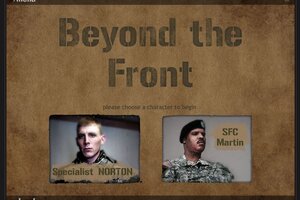 This is one war America cannot afford to lose.
Despite several years of trying to prevent a rise in the number of military suicides, the Pentagon reported last week that, for the first time in a generation, more active-duty soldiers killed themselves last year than were killed in a war zone.
The Army also saw a record in the number of confirmed or suspected suicides – 349 – among both active and nonactive military personnel. This was a 16 percent increase over 2011 despite the end of a US role in Iraq and a decline of troops in Afghanistan.
The causes for this "enemy within" are baffling the experts because about half of the suicides were by individuals with no overseas deployment. And since 2007 the Pentagon has greatly beefed up its support and counseling programs, such as increasing the number of behavioral health experts by 35 percent and even embedding them with the troops.
Some experts speculate that the high-profile prevention programs themselves are planting the idea of suicide in soldiers. Others claim a mental contagion as more soldiers imitate the acts of others.
Tackling the problem will first require an end to the confusion of so many programs aimed at the mental and emotional problems of service personnel. Army Secretary John McHugh admits to an overabundance of programs and hopes to streamline them. "Interventions are not coming as early as we would like to see them," he says.
---