In China-Japan island clash, a peaceful diversion
A dangerous confrontation between China and Japan over the Senkaku islands can be deflected if China returns to the idea of laying aside sovereignty claims in favor of seeking joint development of any seabed wealth.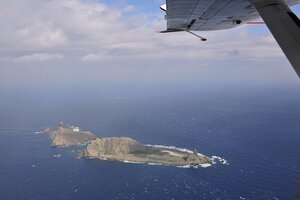 Reuters/file
With China and Japan appearing close to a conflict over a few small islands, it's time to pull out a practical tool of peacemaking: Divert the contending parties toward a shared interest. That tactic often calms the waters, creates trust, and buys time.
Since 2010, either by mishap or design, Tokyo and Beijing have escalated a confrontation over ownership of the uninhabited Senkaku islands (known in China as the Diaoyu islands). What has largely been forgotten is that the two Asian giants were talking only a few years ago about joint exploration of potential oil wealth in the South China Sea. They played down the issue of sovereignty in favor of common economic goals.
To deflect the current tensions, China must return to the idea of seeking a joint effort in tapping the oil and gas around the islands rather than assert its dominance in the region. The idea isn't new. The late Chinese leader Deng Xiaoping set down the wise policy regarding the islands of "shelve rivalry, jointly develop." And last September, Taiwan – which also claims the islands – officially proposed joint petroleum exploration.
Other Asian nations have considered joint ventures in offshore drilling, often to avoid a flare-up of territorial claims. In 2009, Brunei and Malaysia settled a boundary dispute and then tied it to joint development of oil. Vietnam and Malaysia agreed in 1992 to seek joint development without settling rival claims of seabed sovereignty. Last year, Philippine President Benigno Aquino III suggested that all the nations that lay claim to various islands in the South China Sea – such as the Paracels, the Spratlys, the Scarborough Shoals – should benefit from the seabed wealth.
---