Obama plan to rank colleges: Will it raise thinking skills?
Congress appears lukewarm about President Obama's proposal to rank colleges and universities. One reason may be that it fails to measure what today's employers want: Graduates with higher-order thinking skills.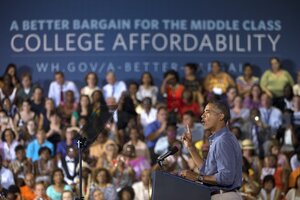 AP Photo
On a two-day bus tour of schools last week, President Obama asked Congress to support a new plan to rank colleges that rely on federal money. The plan has not been warmly welcomed.
The proposed rankings would include such metrics as the percentage of students who finish school and the earnings of graduates. Federal aid would flow more easily to schools with higher rankings, especially those that hold down tuition. College applicants and their parents would have better information in picking a school.
Among criticisms of the Obama plan, some lawmakers said it would not solve the biggest complaint of higher education today: Employers are more skeptical than ever about the worth of college credentials.
The problem isn't just grade inflation, which is serious enough – the percentage of A's given by teachers having nearly tripled in recent decades. Rather, the modern workplace demands far more than the kind of subject-area knowledge that colleges and universities teach – much of which is available through an Internet search. Today's employers want graduates who come with a tool kit of cognitive skills useful for a fast-changing global economy.
These skills – dubbed competency-based learning – include critical thinking, problem solving, quantitative reasoning, and the ability to critique arguments. In short, graduates must know how to ask the questions that need to be asked for creative solutions in competitive businesses.
A graduate's grade-point average, which is based mostly on discipline-based information, doesn't always indicate a good thinker. Nor does graduating from a highly ranked school. A famous 2011 study, titled "Academically Adrift," by Richard Arum and Josipa Roksa, found at least 45 percent of college students showed little or no improvement in critical-thinking skills after their first two years in college.
---