What Janet Yellen must do at Federal Reserve
President Obama's nominee for Fed chief, Janet Yellen, needs to look beyond financial data to create jobs and avoid inflation. The Great Recession showed that economists must also deal with giant lapses in character, even at the Fed.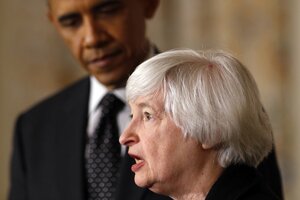 Reuters
According to Janet Yellen, President Obama's nominee to head the Federal Reserve, anyone who bought into the housing market in the years before it crashed in 2008 had "an exceptionally benign view of the underlying risks."
But all the home buyers, mortgage brokers, and bankers who rode that housing bubble were not the only naive ones. Ms. Yellen points out that the Federal Reserve itself, which regulates the money supply and interest rates, was also "behind the curve."
"We missed some of the risky developments that were unfolding," she said, noting the Fed's role in keeping interest rates too low for too long while Americans believed house prices were "on an ever-upward march."
Her humility about the Fed's misplaced optimism, even if in hindsight, will serve her well if the Senate confirms the Yale-trained economist as the first woman to head the world's most powerful central bank.
The Fed's many economists do not usually steer the American economy by dint of virtues such as humility. Yellen herself is better known for an excellence in data crunching than asking questions like why nearly 70 percent of people who defaulted on their mortgages between 1997 and 2006 lied on their original applications.
Yet virtue, or each person's ability to make prudent and just choices, needs more attention from the Fed after the Great Recession.
The profound failure of character that helped cause the financial crisis – from "liar loans" to misleading assurances by mortgage brokers – will not be remedied alone by new rules on risk-taking or more diligence by regulators such as the Fed. Even the many federal watchdogs may still have an "overconfidence bias," or the tendency to overestimate their effective oversight of the industry and its consumers.
---