Praise for those who cross shale's fault lines
The quality of the debate over whether or how to tap shale gas and oil may have turned a corner this year as more groups and states find consensus-seeking ways to deal with the hard issues.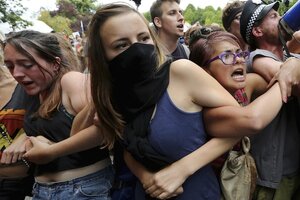 AP Photo
Americans may not know it but other countries with shale deposits of gas or oil now look to the United States for leadership on two fronts:
One, how to best use the techniques of horizontal drilling and hydraulic fracturing ("fracking"). And two, how to resolve the competing values of even tapping this abundant source of petroleum.
In large part because of fracking, the US is now on course to become the world's largest producer of oil and natural gas, creating jobs in many areas and a hope of energy security for the nation. But the US has only begun the difficult task of finding a consensus on whether fracking's hazards outweigh its benefits, and what to do about those hazards, such as methane release and water pollution.
Both sides in the debate have long armed themselves with studies, polls, pressure groups, and even movies to promote or prohibit fracking. Local citizens living over shale formations are often at a loss, perhaps fearing the potential health effects while eyeing the potential wealth bonanza.
But some courageous individuals in the energy industry and among environmentalists have reached out with respect and dispassion to listen to each other in hopes of finding a fact-based consensus.
Last spring, for example, a coalition of gas developers, green activists, and foundations started the Center for Sustainable Shale Development to certify fracking companies that want to implement high standards for protecting air quality, water resources, and climate.
The center's aim is to imitate the success of the independent certification regime for green buildings known as Leadership in Energy and Environmental Design, or LEED. The first certifications are now in the works.
---