What a dig can and can't find
(Read article summary)
We can extract fascinating and useful information from the relics of past civilizations. But the stories archaeology tells are always sketchy and subject to revision -- especially where the Holy Land is concerned.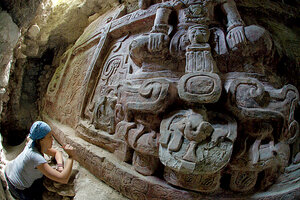 Francisco Estrada-Belli/Proyecto Arqueologico Holmul/AP
Sometimes a portal opens onto the world of legend. A stone is rolled away from an Egyptian tomb revealing a 3,300-year-old Pharaoh's power and wealth. A Roman city emerges virtually intact from volcanic ash, its dining tables set for dinner, its comfortable lifestyle interrupted by natural disaster. The mummified body of a Stone Age hunter emerges from a glacier in the Alps, and modern forensics determines from the metallurgy of his ax, his DNA, and the pollen on his clothes that he was the product of a surprisingly sophisticated culture.
With most archaeology, pottery shards and bone fragments provide sketchy evidence of unheralded lives. But even with the abundant material found at places like Pompeii, the stories we tell about lost worlds are speculative. New tools and theories always come along to challenge what we currently think we know.
Then there is the archaeological holy grail, which exists at the intersection of science and faith: the veracity of the biblical account. Bible archaeology fascinates Jews, Christians, and many Muslims, as well as historians and anyone who studies and cares about the Middle East or, for that matter, Western civilization. For centuries, believers and skeptics alike have wondered if Bible history was accurate, if facts underpinned belief or if it was sufficient to extract spiritual meaning from myth and metaphor.
Take the story of David. Was his a writer's tale of youthful heroism, adult treachery, and the quest for redemption recorded in those sublime psalms? That could make it a Canaanite version of Homeric myth. But David's words and deeds support the monotheistic brand, the argument that the one God should be "exalted among the nations." How has his story come to be so influential if he was just a wordsmith, if he wasn't perhaps a great king? So did his life unfold more or less as the Bible says?
---