The trend is your friend
(Read article summary)
News trends seldom seize attention through shock and awe. But while some trends are little more that fluff, others -- such as the quiet improvement in economic and civil security in Latin America -- recognize significant shifts well worth knowing.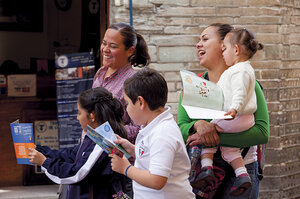 Melanie Stetson Freeman/Staff/File
American retirees are relocating south of the border. That's a trend. And trend stories are a staple of journalism.
Trends don't scream for attention like wars or natural disasters do. Trend stories are built from the bottom up. They often begin with a hunch and require a reporter to piece together facts to support a thesis. While trend stories can sometimes be dubious (Q: How does a journalist count to three? A: One, two, trend.), soundly sourced trends backed by convincing evidence are worth watching.
Trends can be encouraging or troubling. Most fall in the middle range between mildly noteworthy and fairly interesting. Take the "selfie," the hammy self-portrait taken with a smart phone and posted on a social network. It is so trendy that Oxford Dictionaries chose selfie as the 2013 word of the year. Does the selfie signal rampant exhibitionism, widespread loneliness, bold individuality? Most likely the selfie is simply a fad that will fade when the cool kids no longer do it. (Maybe it has already faded. I'd have to check with a cool kid to be certain.)
Trends fizzle and trends endure. The Arab Spring that broke out three years ago has lapsed. That's a shame. But the long-term decline in interstate conflict is still on the downswing, despite pockets of violence from West Africa to Pakistan.
Some trends are game changers. In the late 1990s, an editor I worked with routinely dismissed the Internet as "today's CB radio craze." Just as citizens band radios came and went in the 1970s, he was convinced, the Internet would soon be over.
---