Restoring America's productive hum
(Read article summary)
The new chair of the Federal Reserve knows that Job 1 is jobs. Being out of work is individually and collectively debilitating. Gainful employment is good for everybody.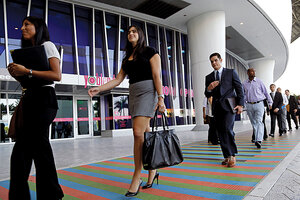 Lynne Sladky/AP
You've heard economics called a "dismal science." Is that fair? Economics encompasses every human activity – a gadget or algorithm or business scheme dreamed up in Palo Alto, Mumbai, São Paulo, Lagos, or Dacca; a food fad fused together by a chef in Guadalajara or Tulsa or Oslo; an industrial process for faster, cheaper, better car parts or solar panels. A productive employee. An attentive shopkeeper. A prolific playwright.
Economics tries to describe the whir and hum of work. Walt Whitman did perhaps a better job of it when he listened to America at work and heard it singing. If politics is how we manage ourselves, economics is what we put our shoulder into, devote our time to, risk, invent, buy, or sell. How dismal is that?
In a Monitor cover story, Mark Trumbull profiles the most powerful person in the world of economics, the new chair of the Federal Reserve, Janet Yellen. This is an accomplished individual, a diligent and self-aware student who dived deeply into economics and was a crucial influence on economics policy as the No. 2 to former Fed chair Benjamin Bernanke.
---