The presidency: A job shapes a jobholder
(Read article summary)
In the sixth year of his presidency, Barack Obama's 'hope and change' slogan is a fading memory. His best option now may be to keep calm and carry on.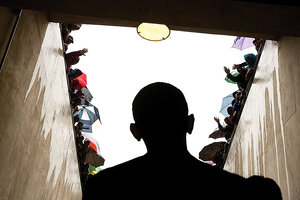 Pete Souza/The White House
Eight years is a long time to be the "first citizen" of a supercomplex, supercontentious superpower. Eight years inevitably brings both anni horribiles and mirabiles. There are inaugural balls, glittering state dinners, white-gloved ovations. As time passes, policies are botched, scandals stir, and the political chessboard becomes more difficult.
An American president is not a superhero but is expected to act like one. Criticism? Nothing is over the line – comedy, parody, insult, threat. This was true of George W. Bush and William J. Clinton and is also true of Barack H. Obama. Thomas Jefferson was only the third president but his trenchant observation still holds: "No man will ever carry out of that office the reputation which carried him into it."
You can see that in Mr. Obama. His 1995 memoir, "Dreams from My Father," was introspective and candid, the personal journey of a young man whose way in life was still an open book. He was about to put his foot in political waters, but the future was uncertain. He could have washed out, landed a teaching job, gone into business. Almost 20 years later, he is in the sixth year of the presidency. Like those Shepard Fairey "Hope" posters, his "hope and change" campaign and early presidency have faded with time. Successors are already jockeying for position. A year from now, presidential hopefuls will be eyeing the Iowa caucuses.
None of which means Obama is a lame duck. As Linda Feldmann shows in a Monitor cover story, this president, like others before him, wields the enormous power of the executive branch and can use proven, if controversial, tools to push policies that he can't get through a gridlocked Congress.
---