An icy plunge to save the melting Arctic
An endurance swimmer uses momentum from a world record to draw attention to disappearing polar caps.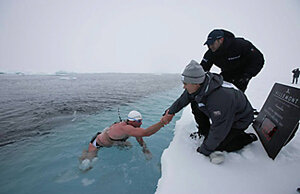 Jason Roberts/push pictures/keystone/ap
Last July, Lewis Gordon Pugh became the only person to ever take a long-distance swim at the North Pole. Wearing only a Speedo, cap, and goggles, he managed to paddle 1 kilometer (0.6 miles) in saltwater that was a frigid -1.7 degrees C (29 degrees F.) – below the freezing point of freshwater. It was the coldest water in which a human had ever swum.
The record-setting swim wasn't his first encounter with icy seawater. In 2005, he plunged into 0 degree C water at Petterman Island, Antarctica, to claim the right to the most southern swim in the world. He's also swum the longest fjord in Norway, the 127-mile Sognefjord; the English Channel; and in 2006, the famed Thames River in Britain – all 203 miles of it – stopping off at 10 Downing Street to chat with then-Prime Minister Tony Blair.
But Mr. Pugh, who has earned the moniker "Polar Bear," doesn't want to be known as merely a thrill-seeking athlete. Today, his single-minded purpose is to bring attention to the plight of his favorite place on earth, the fast-melting Arctic Ocean.
Last summer saw the Arctic's sea ice shrink to just half the volume of only four years earlier. Scientists are quickly recalculating their estimates that Arctic summers might be ice-free by midcentury. Last month, one scientist estimated that it could happen as soon as 2012.
---