Speed alone can't save the cheetah
About 10,000 roam the wilds of Africa. Conservation programs are coordinating efforts to boost that number.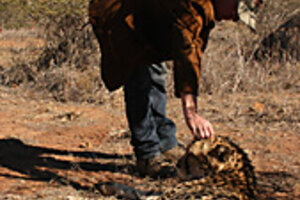 Stephanie Hanes
Duma does not run when Brian Jones opens the gate. Rather, he ambles lazily, casting a bored glance at his sister, Letoatse.
Typical cat.
"Hi, Duma!" Mr. Jones coos, and Duma pads a little closer – although never making eye contact – and stretches, plopping down next to a thorn tree. Jones scratches him behind one tan ear, and Duma purrs.
"You can pet him," Jones says. "But we don't let kids go in here. He seems to take an overactive interest in young people."
Typical cheetah.
This, in fact, is one of the key lessons Duma and Letoatse can impart from this acres-wide enclosure in Botswana's Mokolodi Nature Reserve, says Jones: Cheetahs, some of the world's most endangered cats, are going to act like the predators they are. But if humans understand that, and respond accordingly, there doesn't have to be conflict.
"A lot of people consider the cheetah a pest," says Jones, a long-term volunteer with the Cheetah Conservation Botswana program, a four-year-old group formed to help the beleaguered species. "If a village loses livestock, and they see a cheetah, they'll kill it. We're trying to change the mind-set."
Many environmentalists say cheetahs, the oldest of Africa's big cats and the fastest land mammal on earth, are in danger of extinction. The cheetah population has dropped by about 90 percent over the past century, in large part because of habitat destruction and conflict with farmers, who say they shoot the cats to protect their livestock. Today, some 10,000 cheetahs live in Africa – about half in Botswana and Namibia. A handful also live in Iran.
---