The battle over bottled vs. tap water
After negative media reports on the environmental cost of bottled water, the industry responds with greener strategies.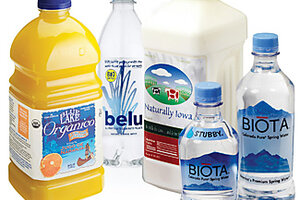 Courtesy of Tom Balla/Nature works
For most of the past seven years, Kate Daniel was "a fiend for bottled water." Believing that bottled water was healthier and better tasting, the Tufts University junior would carry along a bottle wherever she went.
But after she failed to identify bottled water in a blindfolded taste test sponsored by a group called Think Outside the Bottle, Ms. Daniel's confidence in bottled water faltered. "I felt slightly duped," she says.
Even as bottled water companies continue to see increased sales, the recent raft of negative media coverage and activist campaigns against the industry has caused a product once seen as fundamentally green and healthy to lose some of its luster. Now, brand-name bottlers are scrambling to reposition their products by upping their green credentials to fend off further consumer backlash fermenting in churches, college campuses, and city halls across the country.
"All big business is under siege, and at this point it would be remiss to not react to environmental concerns," says Marian Salzman, an advertising executive with JWT Intelligence in New York.
By now, most Americans have heard reports that point to the amount of oil it takes to produce and transport bottled water, in addition to the masses of plastic bottles that are used once and not recycled. But most American consumers don't seem to be changing their habits.
Since 2002, the US market has seen an increase in bottled water production of more than 9 percent per year, according to the Beverage Marketing Corporation. After soft drinks, water has been the second-largest commercial beverage by volume since 2003. Production for 2007 is projected to be more than 9 billion gallons, with revenues clocking in just under $12 billion.
---