'Cloning' comes to trees in new preservation push
To keep natural history alive, a New York program tries grafting ancient giants.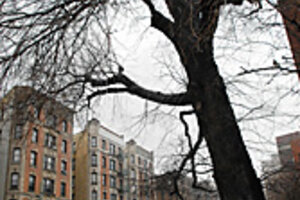 Mary Knox Merrill — Staff
For generations, the towering English Elm has presided over the intersection of 163rd St. and St. Nicholas Ave., in the Washington Heights neighborhood of upper Manhattan. Fifty-three blocks from the tip of Central Park, the "dinosaur," as residents fondly call it, might have served as a natural gateway for Gen. George Washington, rumored to have passed under its boughs at the onset of the Revolutionary War.
But the tree is starting to show its age. Plastic trash hangs from its branches, and a thick black rope, coiled tightly across the trunk, holds one frail limb from crashing onto the street below.
Years ago, city officials erected a small fence around the tree's perimeter to keep hands off its flaking bark.
Now, they have undertaken a more permanent – and distinctly modern – scientific solution. This winter, the New York City Department of Parks and Recreation, working with Bartlett Tree Experts, a Connecticut company, began extracting cuttings from 25 of Manhattan's most historically significant trees.
Those cuttings will be shipped to an Oregon nursery, which will effectively clone the tree by grafting a branch onto the root stock of a similar species. Program manager Matthew Wells says he hopes that complete saplings can be planted within two to three years in Manhattan's public places, or near area schools, where they would serve as natural landmarks.
---