Costa Rica sees tourism's environmental dark side
Lax regulations have allowed development to surge to the breaking point.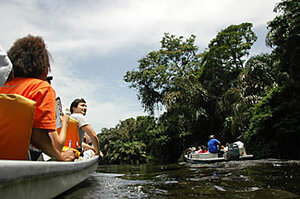 David Sherwood
On a quiet night in February, when winter temperatures plummeted below zero in North America, leatherback sea turtles the size of golf carts lumbered onto this tropical beach to lay their eggs.
Yet just a sandy stroll away, in the booming surf town of Tamarindo, runaway tourism development is turning the sea into an open sewer.
Water quality tests conducted by the country's Water and Sewer Institute (AyA) over the past year found fecal contamination far above levels considered safe by the United States Environmental Protection Agency (EPA).
Such contradictions are now a part of everyday life here, as this ecohaven the size of West Virginia struggles to deal with a tourism and development surge three times the world average.
"Welcome to the Costa Rica the promoters don't want you to hear about," says Gadi Amit, tireless leader of a local activist group called the Guanacaste Brotherhood Association.
In the past decade, construction of hotels, second homes, and condominiums has surged in coastal regions, taking advantage of a vacuum in planning and enforcement. The total land area that has been developed grew 600 percent in that time, according to a government report.
As a result, the biodiversity that has long lured visitors is disappearing, say scientists. Monkey and turtle populations are plummeting, and infrastructure is strained to a near breaking point.
---