Fishermen hit hard by closure of West Coast salmon fishing
Drastic federal action to try to save chinook salmon is latest move in ongoing battle.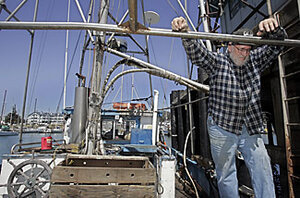 Paul Sakumay/AP
These are dark days for a Pacific icon. Up and down the coast of the United States, from Mexico to Canada, wild salmon are dwindling – steadily and, in some cases, precipitously.
Federal officials this month canceled the salmon fishing season from southern California to Cape Falcon in northern Oregon. The cause: an "unprecedented collapse" in adult chinook ("king" salmon) returning from the ocean to their spawning grounds in the Sacramento River and its tributaries.
Farther north, salmon in the Klamath River, which angles northeast through California and Oregon to high desert ranch country, are barely holding on as well. Multiparty talks about removing four small hydropower dams, which prevent migrating fish from reaching much of their traditional habitat, have dragged on for years with no resolution in sight.
---