Where did all the fish go?
The sea was not so vast, once we deployed an industrial armada against it.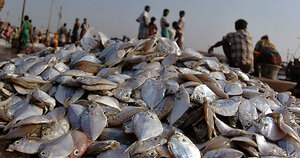 REUTERS/Babu
Early European explorers to the Americas encountered an astounding abundance of marine life. White beluga whales, now limited to the arctic, swam as far south as Boston Bay. Cod off Newfoundland were so plentiful that fishermen could catch them with nothing more than a weighted basket lowered into the water. As late as the mid-19th century, river herring ran so thick in the eastern United States that wading across certain waterways meant treading on fish. And everywhere sharks were so numerous that, after hauling in their catches, fishers often found them stripped to the bone.
"It completely bowled me over when I started reading some of these early accounts," says Cal­lum Roberts, a professor of marine conservation at the University of York, England, and author of "The Unnatural History of the Sea," which tells much of this tale. "The picture painted is one of an abundance of life which is very hard for us to grasp today."
Hundreds of years of fishing – and especially the last half century of industrialized fishing – have drastically altered the oceans. Measured by weight, only 1/10th of the large predators that once swam the seas – the big fish and sharks that shape the entire ecosystem – is estimated to remain. And many of these changes have occurred relatively recently. Any middle-aged fisherman will wax nostalgic about the catches of just 20 years ago. Any marine scientist will glumly check off reefs they once studied that are now bleached and overgrown with algae as a result of overfishing and pollution, and the marine life that's simply disappeared.
"Today's oceans have got far less in the way of biomass than they used to," says Professor Roberts. "We're altering ecosystems in a way that reduces the level of productivity they can support."
---