Why flooding worsens
Development, farm practices, and population growth have increased the risk of flooding.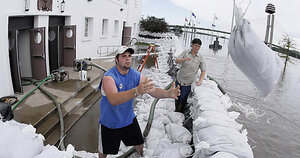 Julie Jacobson/AP
Up and down the flood-ravaged river valleys of the upper Midwest, high water has inflicted billions of dollars of damage to homes, businesses, and crops. It has displaced tens of thousands of families and brought immeasurable suffering. It has also brought a new concern for the region's river towns and cities: Flooding in the Midwest seems to be getting worse.
Researchers and other observers say such episodes are likely to worsen as efforts to protect vulnerable communities are outpaced by factors that increase the risk of flooding, including the ongoing practice of building on river flood plains.
"We're probably more at risk than we've ever been," says Larry Larson, executive director of the Association of State Floodplain Managers, based in Madison, Wis.
Most cities and towns in the Midwest lie along rivers and streams. Hydrologists and planners say that the cumulative effects of decades of land-use choices have gradually increased the likelihood of flooding. Throughout Iowa, Illinois, and Indiana, for example, much farmland is drained by buried tiles that carry rainwater quickly away from the fields into streams and rivers. Population growth, bringing new highways and subdivisions, increases runoff. And communities keep building on flood plains, which not only puts new development at risk but also reduces the amount of flood plain available to absorb floodwater.
---