Bush's pushes for marine reserves
The president's ambitious plan would conserve two large swaths of the Pacific.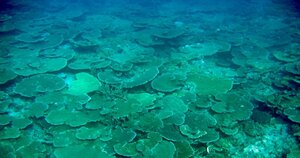 Australian Institute of Marine Science/AP/File
In its waning weeks, the Bush administration is sorting through options that could lead to the largest marine conservation reserves in United States history.
At issue: Proposals to protect at least one of two vast reaches of ocean that host some of the most pristine coral-reef and under-sea mountain ecosystems in the Pacific. One candidate, a loose cluster of islands and atolls in the central Pacific called the Line Islands, covers a patch of ocean larger than Mexico. The other, a section of the northern Mariana Islands, is larger than Arizona.
The administration has been heavily criticized for its stance on environmental issues such as global warming and for its last-minute efforts to ease some environmental regulations. So its interest in a bold marine-conservation move may seem surprising. But the president "has had a strong interest in the health of the oceans," says Dennis Heinemann, a senior vice president with Ocean Conservancy, a marine-conservation group in Washington.
In 2006, President Bush established a vast marine reserve along the northwest Hawaiian Islands, the Papahanaumokuakea National Marine Monument. The monument spans an area larger than all of the country's national parks combined.
---