Alaskan lake's fate could echo across continent
US Supreme Court will decide if Lower Slate should be disposal site for mine wastes.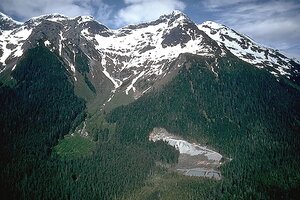 AP/FILE
Roger William, a soft-spoken former chief of the Tsilhqot'in Nation in Canada, and Tim Bristol, a recreational fishing activist in the United States, have never met. They adhere to divergent cultural customs in different countries on opposite sides of rugged, glacier-sheathed mountains. But they share a common concern about the persistence of clean, untainted water and how it is becoming an ever-rarer commodity in the world.
Uniting their attention is a landmark legal case now before the US Supreme Court. Both men say the fate of faraway Lower Slate Lake, a tiny unremark­able tarn in the coastal Alaskan rain­forest above the Pacific Ocean, holds huge implications for lakes across the continent.
The question soon to be answered by America's highest court is this: Should natural lakes be used as dumping grounds for wastes generated by hardrock mines?
Nearly four decades after Congress passed the federal Clean Water Act to protect waterways from industrial pollution, the proposal by Coeur d'Alene Mines Corp. to dispose of tons of effluent in Lower Slate has sparked an international debate.
Legal scholars say it assumes a bigger profile in these tough economic times and amid soaring gold prices, yet the issue, they say, transcends the localized dichotomy of jobs versus environment.
---