World's next big climate pact begins to take shape
This week, negotiators from 182 countries meet in Bonn, Germany to lay the groundwork for a post-Kyoto climate regime.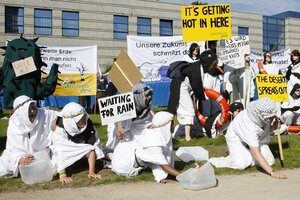 Hermann J. Knippertz/AP
A two-year march toward a new treaty to combat global warming is pausing briefly in Bonn to give negotiators from 182 countries their first crack at tackling a rough draft of an agreement.
Despite differences over some difficult issues, there is cautious optimism that negotiators could make progress especially now that the US is playing what many see as a more constructive role than it did under the Bush administration.
Over the next two weeks, country representatives will debate and overhaul as much of a 53-page "negotiating text" as they can to get a draft pact ready for government ministers to consider in December at the UN Framework Convention on Climate Change's (UNFCCC) annual "conference of the parties" in Copenhagen.
The ultimate goal is to produce a new agreement that will cover developing as well as developed countries and will pick up where 1997 Kyoto Protocol leaves off. The protocol's first – and so far, only – enforcement period ends in 2012. The protocol, which formally took force last year, calls on industrial countries to reduce their greenhouse gas emissions by a combined average of 5.5 percent below 1990 levels.
The timetable and topics the new treaty must cover were set out at global climate talks in Bali in 2007. The Bali Roadmap envisioned a draft treaty that would be ready for consideration in Copenhagen, but now, UN officials speak in terms of an "agreed outcome" or talks leading to "a result" in the Danish capital.
---