US closes parts of Arctic to commercial fishing
Melting ice caps are exposing more of the Arctic Ocean than ever before. The US moves to halt fishing in the newly ice-free zones even before a fishing industry blossoms there.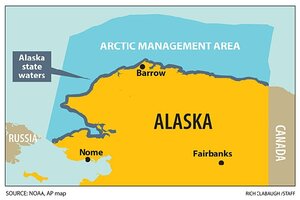 Vast areas of the Arctic Ocean are now officially no-go areas for commercial fishermen.
In an unprecedented move, the US Commerce Department has backed a plan to close large portions of the Arctic Ocean within federal jurisdiction, even though the region currently sees little fishing activity.
"This is an historic decision," says Marilyn Heiman, who heads the Arctic program for the Pew Environment Group, based in Washington, D.C. "This is the first time the government has protected an entire ecosystem before commercial fishing is allowed."
The plan, which US Commerce Secretary Gary Locke approved on Aug. 20, comes in anticipation of the Arctic Ocean becoming largely ice-free for much of the summer – a condition scientists trace to global warming, compounded by a natural swing in wind patterns that drive large chunks of sea ice out of the Arctic Ocean into the Atlantic during the summer.
Exceptions to the no-fishing policy include fisheries within the state of Alaska's jurisdiction, which extends three miles offshore; Pacific salmon and Pacific halibut, which already are regulated under a different regime; and subsistence hunting and fishing.
---