Animal advocates howl over wolf killing
Recovered from "endangered" status, Rocky Mountain wolves are now being hunted. It's a classic story of human interests versus a competing predator.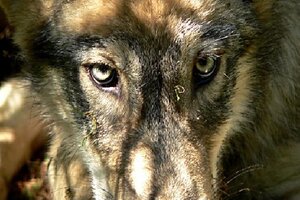 If there's one thing that human critters and Canis lupus have in common, it's an appetite for elk and deer, cattle and sheep. We prefer them grilled or roasted; wolves eat them raw and bloody -- no fancy sauces, please.
That's always been a problem … we're competitors for groceries. Not to mention those big teeth and what almost happened to Little Red Riding Hood. (In fact, what did happen to her in early versions of the fairy tale.)
Today, what is both economic competition and morality tale is being played out in the Northern Rockies, where it's become legal once again to shoot wolves for sport.
During most of the 20th century, wolves were hunted to near extinction in the contiguous 48 states. Then, following their listing under the federal Endangered Species Act, some Canadian gray wolves were transplanted into Idaho and Yellowstone National Park in Wyoming in 1995-96 in order to reestablish them in their native habitat there.
Nature took its course. The wolves formed up into packs with dominant breeding pairs. As their numbers increased, so did their range -- some swimming across the Snake River into Oregon.
---