UN summit: Can Obama meet expectations on climate change?
Obama pledged to tackle global warming in his presidential campaign. Now the world waits to see if he takes a leadership role at a climate change meeting at the UN Tuesday.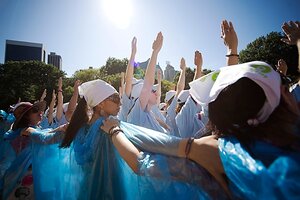 Afton Almaraz/AP
All eyes, and as important, all ears will be on President Obama and Chinese President Hu Jintao Tuesday as heads of state from some 100 countries gather at the United Nations (UN) for a one-day summit on climate change.
The goal of the meeting is to inject new energy into the negotiating process as the clock counts down to UN-sponsored climate talks in Copenhagen December. And many are waiting for the US to take a leadership role.
"The world was and is really excited about what President Obama has demonstrated in terms of his commitment to engage on this topic, to take it seriously, and to show leadership in coming to a result in Copenhagen," said Yvo de Boer, executive secretary of the UN Framework Convention on Climate Change. "Now he has to deliver the goods."
When Mr. Obama takes the podium Tuesday, he needs to emphatically reaffirm his campaign pledges to fight global warming, especially his interest in returning the US to a leadership role at Copenhagen, Mr. de Boer said at a press briefing Monday.
"But he also needs to be very clear and say: Sorry guys, but if you don't also deliver at Copenhagen, I can't carry this load alone," he adds.
---