Shark-fishing contests raise controversy
Waters churn as advocates tussle over sport-fishing contests.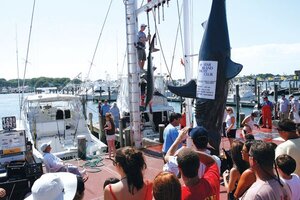 Keith Bedford/Reuters/File
In the weeks before the Oak Bluffs (Mass.) Monster Shark Tournament kicks off each summer, the home of tournament organizer Steven James becomes crowded with T-shirts, other clothing, and promotional items emblazoned with the crest of the Boston Big Game Fishing Club and a rendering of a shark. The imagery illustrates a promise: For two days, the fishermen can brave the seas off Martha's Vineyard (where the movie "Jaws" was filmed) and chase sharks.
It's a notion that appeals to hundreds of recreational fishermen – who spend heavily on entry fees, gear, and boat fuel for a chance to catch the biggest shark in weekend contests – and crowds of spectators, who gather dockside to watch boats returning with champion fish.
But the events have also compelled animal-rights activists, led by the Humane Society of the United States (HSUS), to campaign against shark tournaments. The groups say that the tournaments are cruel and are an additional threat in an era of worldwide shark population decline. "These events convey to the public the message that the value of these sharks is in their death," says John Grandy, a senior vice president of HSUS.
The campaign angers tournament organizers, who say that the criticism exaggerates the impact of the events on world shark populations. The debate has also emphasized that some of what scientists understand about sharks comes from sampling those caught in tournaments.
Since 2005, HSUS and local organizations have protested at large events such as the Ocean City (Maryland) Shark Tournament and the Star Island Yacht Club Shark Tournament in Montauk, N.Y. Their tactics have been both subtle and dramatic: They've asked tournament sponsors to end support of the events, and, last fall, HSUS reported allegations of illegal gambling at the Oak Bluffs contest to the Massachusetts attorney general's office.
---