Floating house could ride New Orleans' floods
Architects have designed a floating house that can withstand up to 12 feet of water.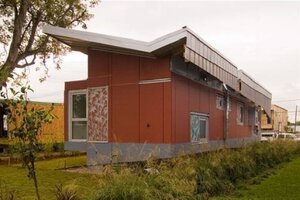 Patrick Dunn-Baker/Morphosis Archtects/AP
A house capable of floating atop rising floodwaters made its debut Tuesday in New Orleans alongside more than a dozen other homes built through actor Brad Pitt's Make It Right Foundation.
Called the FLOAT House, the unique home aims to answer the challenge posed by the Big Easy's flood risk, starkly illustrated by the rising waters of Hurricane Katrina in 2005.
"I wanted to float it down the Mississippi River to New Orleans," architect Thom Mayne says with a chuckle while in New Orleans for Tuesday's event. Instead, the home was shipped in pieces from Los Angeles, where it had been constructed on UCLA's campus.
The dwelling was designed by Morphosis Architects under the direction of Mr. Mayne, a professor at UCLA. Mayne said it's the first of its kind to be permitted in the United States.
It is long and narrow like the traditional New Orleans shotgun home and sits on a raised 4-foot base. It also has a front porch. But the home is contemporary in design, with sharp angles and energy efficient features like solar panels and a roof designed to capture and recycle water.
---