Upside-down snow pattern starts US winter season
Houston sets a record for early snow as pecan groves and cotton fields in the South get snow as well.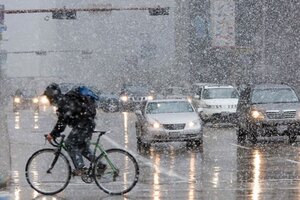 Nick de la Torre/AP
While Boston baked and Chicago chilled, the South got the bulk of the winter's first lowland snow.
A "kink" in the jet stream pushed cold air into a southern trough that collided with moist air from the Gulf of Mexico. The result was the earliest-ever snow in Houston, beating a record set only last year when snow came to Houston on Dec. 10.
Houston has only seen snow a few dozen times since the Civil War.
As the storm moved east on Friday and into Saturday, pecan groves in Mississippi and cotton fields in Alabama saw unusual early season snow build up. Skiing in North Carolina mountains could start opening thanks to the early snow.
"We have this high amplitude pattern with a big kink in the jet stream, which funneled large amounts of cold air into Texas while it was warm in Boston and on the West Coast," says Jeff Masters, founder of Weather Underground. "It's interesting to note that Chicago has only had a trace of snow this year while Houston" had over an inch in some places.
---