The city that said 'no'
Maywood, Calif., has become a 'culture of participation' to help solve its pollution problems, particularly with contaminated water.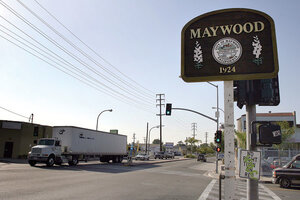 Tony Avelar / The Christian Science Monitor
On the Monday before Thanksgiving, Jesus Padilla flipped on the spigot in his front yard. Tea-colored water spurted out.
"We got a nightmare here," says Mr. Padilla, a retired machinist who has lived here for 30 years. His wife, Francisca, rushed out clutching a mug of dirty water from a faucet inside.
"Every day I wash my clothes, I cook, I clean with this water!" she said. "We worry about this water all the time."
When residents of this city in southeast Los Angeles County turn on their taps, brown, yellow, red, or even brackish black water often pours out. State regulators admit that it can stain clothes, smell or taste awful, and, on occasion, contain manganese, lead, trichloroethylene, and other contaminants. But they say it is safe. Local water district officials insist they are doing their best in a poor city that cannot afford millions to replace crumbling pipes.
Local residents aren't surprised. "Maywood isn't like Hollywood," says longtime resident Jose Melendrez. "Nobody knows about us. These little places that nobody knows about, nobody cares about, so we get picked on."
Across the country, studies have increasingly shown that low-income, minority communities endure a disproportionate share of poor living conditions and contamination. A 2007 study by four universities found that nonwhites are far more likely to live near hazardous waste than whites. Greater Los Angeles led the nation with 1.2 million people living less than two miles from such waste, 91 percent of them minorities.
---