Global warming will cause plants and animals to migrate
A new study estimates that animals and plants will have to migrate, on average, nearly a quarter of a mile each year to keep up with shifting climate belts caused by global warming.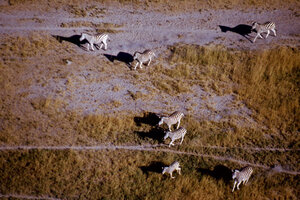 NEWSCOM
One upon a time, adaptation to global warming was dubbed a cop-out, a way to duck the challenge of reducing, and ultimately eliminating, greenhouse-gas emissions from cars, factories, and power plants.
Now, however, the issue is front and center – a necessary adjunct to reducing emissions. One significant adaptation challenge involves protecting as much of Earth's biodiversity as possible in what is projected to be a prolonged period of rapid – if sometimes erratic – warming.
Enter Scott Loarie. a researcher at the Carnegie Institution's department of global ecology in Stanford, Calif. He and five colleagues have unveiled a new approach to assessing how changing climate will affect various habitats. They dub the measure "climate velocity."
The measure takes into account changing temperatures as broad climate zones migrate north and south away from the equator, and hike their way up the sides of mountains. And it looks at the geographic setting in which the habitats appear -- whether on a broad flat landscape or in mountains, for instance.
One broad observation from the data: plants and animals that live in broad, relatively flat areas – the Great Plains, regions containing mangrove forests, or the African Veldt – are likely to have the toughest time dealing with global warming.
---
Subscribe to Recharge
Get the Monitor stories you care about delivered to your inbox.