Bark houses are built with nature's shingles
Building houses with bark shingles is eye-catching and sustainable.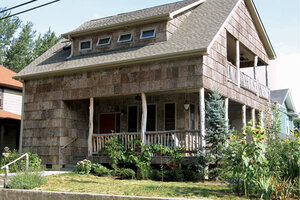 Nan Chase
The rustic bungalow near downtown Asheville is a traffic stopper. Covered in big overlapping shingles of tree bark – rather than the usual wood, brick, or stone – it looks odd, a bit like a square tree.
Although the unusual house appears antique and rooted in the past, it was completed just last year.
Bark may look old-fashioned, but as a recently rediscovered and reengineered building material, it fits the profile of a modern, environmentally sustainable choice for new construction – residential or commercial, interior or exterior.
The poplar bark from which the shingles are made is salvaged from timber operations, and otherwise would be burned, mulched, or left to rot. Among the benefits of top manufactured bark shingles: They contain no chemicals, having been processed solely with sanitizing kiln heat. Bark's insulating heft keeps heating and cooling bills low. Bark requires no paint, stain, or other treatments. And shingles can last 75 years or more without maintenance.
I've learned all this because that Asheville house is mine. What began simply as a way for my husband, Saul, and me to have a house that would never need painting – we worked as house painters in college – has grown over the past two years into a living laboratory experiment.
Saul and I didn't know what to expect from a bark house, or whether there would be anything to notice at all. But it does feel different: entirely wind resistant in a storm, slow to warm up in summer, and quick to warm up in winter.
---