Keeping track of migrating raptors
Scientists in Washington State monitor the populations and migration patterns of birds of prey, to identify trends.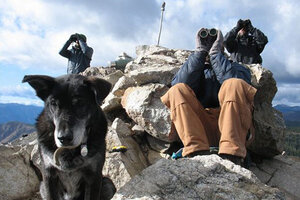 AP
The instant a black dot appears on the horizon, someone calls out, "We've got a bird out there," and all chatter stops. The sound of a gentle wind pushing against the ridgetop is all that can be heard as wildlife biologists and visitors raise binoculars to their eyes to study the speck coming toward them.
Silence. More silence.
"A bald eagle, maybe?" someone asks.
Moments later, "Yes, a bald eagle," biologist Brian Connelly confirms when the raptor is close enough for positive identification.
Satisfied, his counting partner, Craig Waythomas — also a wildlife biologist — puts it down on a clipboard page marked with 18 different species of hawks, falcons, and other birds of prey that might be seen from here.
Over the last 13 years, biologists have counted more than 27,000 raptors from this 5,500-foot ridge that separates the Methow and Chelan valleys. It's about 40 miles northeast of Wenatchee. In the past 11 years, they've captured and banded more than 6,000 birds of prey, starting the leg-banding after two years of counting confirmed this was a good migratory route for birds of prey from late August to late October.
Principal biologist Kent Woodruff, who works for the US Forest Service in the Methow Valley Ranger District, says the collaboration between the nonprofit conservation group HawkWatch International and the Forest Service gathers valuable baseline data that will help determine when a species is in trouble.
---