Gray water's grass roots
In a grass-roots effort, a Los Angeles community pushes the plant-saving practice of reusing water from showers, baths, sinks, and washers.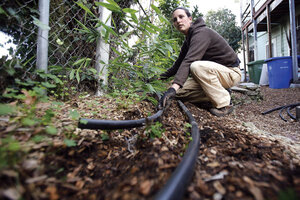 Tony Avelar/The Christian Science Monitor
Eco Village, near Koreatown, Los Angeles
If water is the next battleground for a globe facing dwindling water resources, then this 1960s-style community center at the northern end of Los Angeles's Koreatown is at the forefront of the fight.
On this day, Laura Allen, cofounder of Greywater Action, a group that encourages conserving and reusing household water, is in her fourth of a five-day workshop teaching Californians how to reclaim and recycle what has been dubbed "gray water." Typically, gray water includes the discharge from washing machines, sinks, showers, and tubs, which is then used to provide moisture for outdoor plants, from backyard rosebushes to large orchards.
While progress has been made – many institutions, corporations, and municipalities around the world use gray water – activists say there's still a long way to go. And it's groups such as Greywater Action that are helping to drive change.
"Grass-roots efforts – seeing an issue and trying to do something by acting individually and being responsible stewards – are very important," says Kathy Robb, founder and director of the Water Policy Institute in New York.
As an example, she points to the fact that before regulations in California were changed last August to make it legal for homeowners to install or alter a simple gray-water system without a construction permit, there were already an estimated 2 million unpermitted systems in the Golden State.
---