Prisons turn to the wind for energy
Prisons are turning to wind power to supply energy for their around-the-clock operations.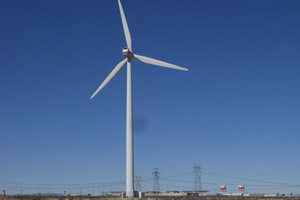 Courtesy of the Victorville Federal Correctional Complex in California.
When the Pilgrims crossed the Atlantic and landed at Plymouth Rock, it was the wind blowing into their ships' sails that pushed them across the water.

That power of the wind will soon reassert itself in Plymouth, Mass., when a giant device becomes the first thing any visitor to this historic town will notice. That's because plans are under way to build a wind turbine at the county jail here, on a hill less than a mile from the coast.

"We hope to be generating power, if not next year, then in the foreseeable future," says John Birtwell, the spokesman for the Plymouth County Sheriff's department. "We've been waiting for a year to buy a wind turbine after finishing all feasibility studies."

According to Mr. Birtwell, the jail's electricity bill runs close to $1 million per year.

"Unlike a school building or another commercial building, we're always open," Birtwell says. "When you have to feed and house 1,600 souls at a location, we have an enormous demand for energy."
An increasing number of correctional facilities in the United States and in other countries are beginning to look at wind power to supply energy to their 24-hour operations. With the rising cost of fossil fuels, governments are finding that investing in wind energy at correctional facilities makes sense. Plus, green energy improves the image of prisons and jails.
The state of Massachusetts is currently planning wind turbine projects at three prisons – after the Massachusetts Renewable Energy Trust overlaid a wind map with the locations of state facilities and provided thousands of dollars for feasibility studies.
---