Cape Wind project approved
The Interior Department has approved the Cape Wind project, clearing the way for the first offshore wind power in the US.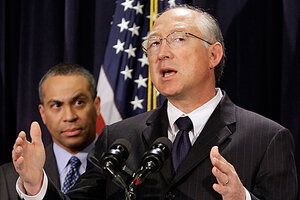 Steven Senne/AP
The long-embattled Cape Wind project won federal approval today, marking a major step toward becoming the first US offshore wind-power project and paving the way for a new source of renewable energy for America.
For nearly a decade, regulatory battles have pitted residents of Massachusetts' cape and islands, Indian tribes, and influential politicians against one another and developers of the project. Secretary of the Interior Ken Salazar gave the green light for the project Wednesday at the Massachusetts Statehouse with Gov. Deval Patrick at his side.
"After careful consideration of all the concerns expressed during the lengthy review and consultation process and thorough analyses of the many factors involved, I find that the public benefits weigh in favor of approving the Cape Wind project at the Horseshoe Shoal location," Mr. Salazar said. "With this decision, we are beginning a new direction in our nation's energy future, ushering in America's first offshore wind-energy facility and opening a new chapter in the history of this region."
IN PICTURES: The answer is blowing in the wind
A smaller project with some restrictions on it
But Salazar also noted that the project would be scaled back from its original 170 turbines to 130 and undergo special requirements – including requiring additional archeological research offshore to ensure that native sacred areas are protected.
---