Disabled oil rig alarm points to human failures in Gulf oil spill
As investigators probe the Deepwater Horizon oil rig accident, it's becoming clearer that human decisions regarding key safety equipment were part of the nation's largest oil spill.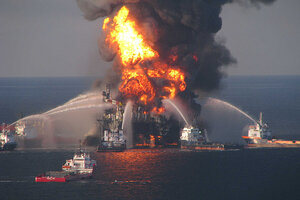 Newscom
A disabled fire alarm and critical gas venting systems set to "bypass" likely became part of a complex web of human errors that contributed to the Deepwater Horizon accident at the heart of the nation's worst oil spill.

Despite the high-tech rigging, deep sea drilling is ultimately a man versus nature endeavor. Known among rig workers as the "well from hell," the Macondo Prospect well had pushed back against the Deepwater Horizon's best efforts for weeks by the time of the April 20 blow-out and ensuing explosion.

But on board the nine-year-old rig, efforts to tap the depths of the earth for oil went ahead despite a litany of safety problems. They included documented problems with the blowout preventer that ultimately failed, software problems that stymied workers trying to control the blowout, as well as potential human mistakes ranging from potentially faulty pressure tests to key decisions made by the BP company man on the rig, who last week invoked his right against self-incrimination.
IN PICTURES: The Gulf oil spill's impact on nature

Symbolic of a complex web of human failures, according to testimony for a 6-member Coast Guard-Interior Department investigative panel, was a fire alarm system that rig managers partially disabled to let rig workers sleep through what were perceived as minor alarms coming from the troublesome rig.

"All these industrial disasters have a combination of human error and mechanical failure, and both Exxon Valdez and the Deepwater Horizon had both elements involved in the causal chain that caused the disaster," Rick Steiner, a retired professor from the University of Alaska and a marine conservation consultant, recently told ABC News.
---
Subscribe to Recharge
Get the Monitor stories you care about delivered to your inbox.