New warning of poisonous chemicals in natural gas 'hydrofracking'
A congressional report finds that chemicals used in 'hydrofracking' to extract natural gas are known or possible human carcinogens, regulated under federal environmental laws.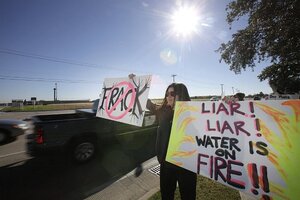 LM Otero/AP
Chemicals used to extract natural gas from vast areas of the United States include "extremely toxic substances, such as benzene and lead," according to a new report released by members of the House Energy and Commerce Committee.
Twenty-nine of the chemicals are known or possible human carcinogens, regulated under the Safe Drinking Water Act for risks to human health or listed as hazardous air pollutants under the Clean Air Act, according to the report.
"This report shows that these companies are injecting millions of gallons of products that contain potentially hazardous chemicals, including known carcinogens," said Rep. Henry Waxman (D) of California, senior Democrat on the committee.
Oil and gas industry officials deny that hydraulic fracturing – known as "hydrofracking" – is a threat to the environment or public health.
"This report uses the same sleight of hand deployed in the last report on diesel use – it compiles overall product volumes, not the volumes of the hazardous chemicals contained within those products," Matt Armstrong, an attorney representing companies involved in natural gas drilling, told the New York Times. "This generates big numbers but provides no context for the use of these chemicals over the many thousands of frac jobs that were conducted within the timeframe of the report."
---