Electric cars get a closer look in Japan after nuclear crisis
Electric cars have been getting more attention as power-saving becomes a the new buzzword in Japan.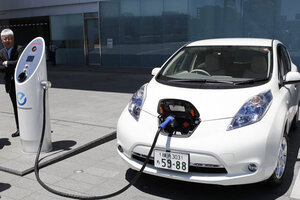 Koji Sasahara/AP
With the country steeped in power-saving mode, energy generation has become all the rage among Japanese automakers.
Nissan Motor Co on Monday unveiled a new charging system that gets electricity from solar power that can also be stored in the lithium-ion batteries used in its Leaf electric car.
The 488 newly installed solar panels at Nissan's global headquarters will produce enough electricity to charge 1,800 Leafs a year, allowing drivers plugging into one of its seven charging spots to travel on carbon-free energy.
Nissan's announcement comes just days after Mitsubishi Motors Corp said it would develop and market this business year a portable converter with enough capacity to allow its electric vehicles (EVs) to power household electronics such as rice cookers and washing machines.
Japanese automakers have been working on clean-energy initiatives for years, but the earthquake and tsunami on March 11 have made electricity supply and sourcing an immediate concern.
"Setsuden," or power-saving, has become a buzzword in Japan, where the disasters crippled a nuclear reactor and triggered the worst radiation crisis since Chernobyl. Starting this month, big-lot electricity users in eastern Japan are required to cut peak consumption by 15 percent during the hot summer months, and utilities have also appealed to households to do their part.
Through a joint venture set up last year with Sumitomo Corp, Nissan plans to re-fabricate and resell its electric cars' high-capacity batteries as power storage units when the car is traded in or scrapped starting in 2016.
---