Worry climbs as puzzling bacteria leaves Florida palms withering
Florida horticulturists worry palm trees throughout the Sunshine State and Southeast could vanish as a new bacterial condition ravages the state's most iconic scenery.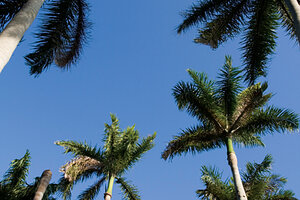 Walter Bibikow/Newscom
They are as iconic to Florida as sunshine and Mickey Mouse. But now, it appears, the state's famous palm trees are under threat by an interloper from the West.
The curiously named "Texas Phoenix palm decline" has taken root in several populations of trees. The problem has been brought on, say horticultural experts, by a tiny plant-hopping bug that chews into leaves and then vomits on them.
The bacterial condition has already been blamed for destroying thousands of palms in central and western parts of the state. Now, it's raising the unthinkable possibility of tourism magnets such as Disney World or Miami's South Beach losing their trademark trees.
"Based on our experience of other palm diseases ... there is potential for it to spread throughout the state, even into the southeastern US," says Nigel Harrison, associate professor of plant pathology at the University of Florida's Fort Lauderdale Research & Education Center. "But the truth is we don't know, which is why we are doing so much research into it."
Until now, the trees most affected have been of the Phoenix genus, which includes Canary Island date palms, edible date palms, wild date palms, and Sylvesters.
But after months of study at a field research site in Hillsborough County, Dr. Harrison's team concluded that the Sabal palm, Florida's most popular and prolific type of the tree, is especially at risk.
---