Arctic sea ice falls to record low. Global warming?
The decline in sea ice coincides with warming at the top of the world that has been occurring twice as fast there as it has for the northern hemisphere as a whole as the global climate warms.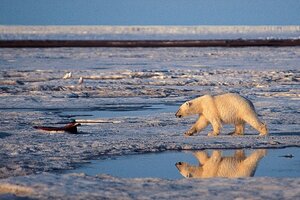 Subhankar Banerjee/AP
Earth's icy skull cap, floating atop the Arctic Ocean, has reached its lowest summer extent since satellites first began keep in track in 1979, and by some estimates its lowest reach in nearly 1,500 years.
As of Sept. 7, the Arctic Ocean's expanse of summer ice this month spanned less than 1.54 million square miles, nearly six times the size of Texas and some 45 percent less than for the average for the same month through the 1980s and '90s, according to the National Snow and Ice Data Center in Boulder, Colo. And the ice is still retreating; the summer melt season typically ends in mid to late September.
The previous record low was set in 2007, a result of an unusual set of conditions – clear skies during most of the summer and wind patterns that drove large amounts of ice past Greenland and into the North Atlantic. This summer, no such "perfect storm" for ice loss appeared.
Instead, much of the ice left over from winter – coming out of a summer that until now had been the second lowest melt-back in the satellite record – was thin enough to break no matter which way the wind blew, according to NSIDC researchers.
---