West Virginia gas pipeline explosion – just a drop in the disaster bucket
The West Virginia gas pipeline explosion follows several high profile natural gas accidents and a rapid increase nationally in pipeline mileage – even as federal oversight appears to lag.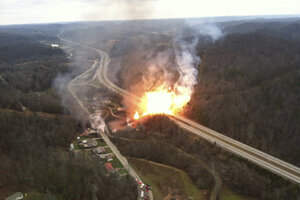 West Virginia State Police/Reuters
The fireball explosion Tuesday of an interstate natural gas transmission line in West Virginia, which left behind a huge jet of flame that burned for more an hour and melted four lanes of I-77, is just one of scores of accidents and explosions involving natural gas lines this year, federal data show.
Despite the magnitude of the explosion and fire, preliminary reports were that all persons were accounted for with no injuries, said a member of the National Transportation Safety Board, which is charged by Congress with investigating pipeline as well as airline, railroad and other transportation accidents.
An NTSB team was in Sissonville, W.V. at first light Wednesday, examining evidence at the accident site.
Robert Sumwalt, a safety board member, told reporters at an initial press briefing late Tuesday that the NTSB team would not speculate on causes of the explosion, but would collect evidence and interview witnesses, including the operators of the pipeline, Columbia Gas Transmission company, a subsidiary of Houston-based NiSource Gas Transmission and Storage.
---